By: Geeq on Dec 1, 2022
Automated testing platform deployed for QA
Protocol v4.1 test net update is working in test environment
UI/UX improvements
Deployment of automated testing platform
Earlier this month, the dev team put a new automated platform for testing and quality assurance (QA) in place. The QA team now is able to write and run scripts rather that test manually. Some manual testing will remain important, particularly for front-end usability and user experience. In other areas, automated testing will make more effective use of the team's QA skills. The team looks forward to working with the new platform.
Protocol v4.1
The Geeq protocol has been updated to v4.1. The update incorporates continued work on Geeq's network and system operations. As highlighted in our last technical update, Geeq's protocol requires each active and listening node to build a provably correct, up-to-date chain state view on an individual basis to be credible. The logical consistency of Geeq's build offers far more certainty for users about the reliability of their account ledgers, especially compared to work on modular blockchains.
Modular blockchains, as opposed to monolithic blockchains, are a more recent approach to scaling where new security assumptions are either accepted or acknowledged to pose problems that are yet to be resolved. In contrast, Geeq's platform scales as a multi-chain platform where each chain follows Geeq's high security protocol. Work reflected in v4.1 strengthens the security of the communications pathways required for validation and is being tested for stability.
Block Explorer UI/UX enhancements
With a range of new features such as NFTs and fungible tokens on the horizon for Geeq, our user interface (UI) and user experience (UX) teams have been analyzing how they can best be integrated into a Block Explorer. In particular, the teams are working to ensure that users easily find the features they need and display them across a range of customizable views and interfaces.
The goal is to make the UI/UX as intuitive as possible for non-blockchain users, while still providing the option of more detailed features and views for those with more experience. You can see a very early sneak-peak of what they have been working on below.
Geeq Block Explorer: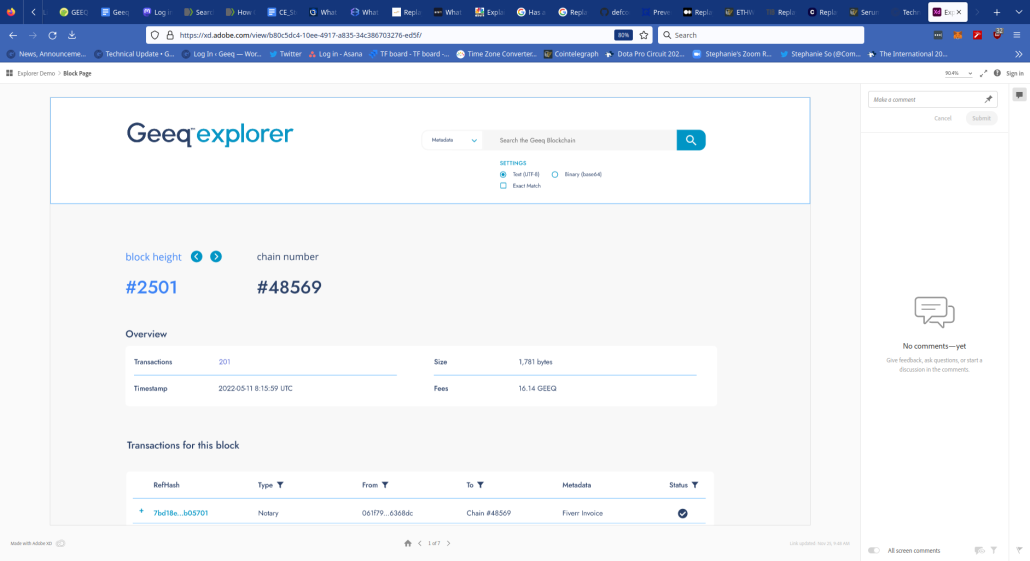 Coin Asset Account Page – Transactions: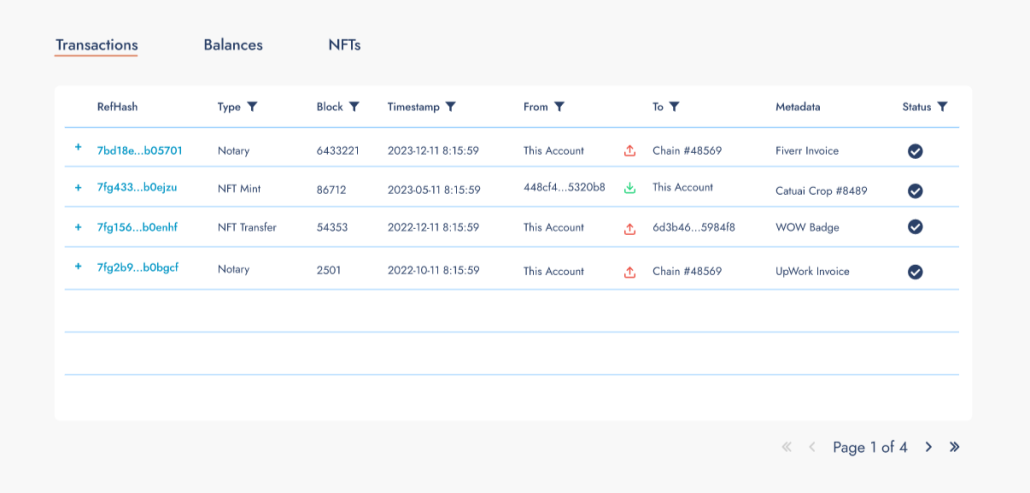 We hope you enjoyed reading and, as always, thank you for your support!
– The Geeq Team