"We may not have known it was called Industry 4.0, but we've been doing it for years" – said the CEO of a German steel manufacturer. Indeed, whatever name we call it by, digitization has revolutionized the way companies manage and improve manufacturing processes.
Get In Touch
Manufacturing is in the forefront of digital transformation
It involves the coordination of an extremely complex workflow involving countless people, inventory units, and assembly lines. Smart manufacturing promises to reduce friction along the manufacturing process by using digitized business logic and smart technologies on a large scale. In doing so, typically various technologies are combined, including artificial intelligence (AI), machine learning and IoT (Internet of Things). The latter includes industrial devices that monitor the temperature of a work area, vibration of a conveyor belt, or follow the development cycle of products, to name a few examples. The potential is huge: smart factories are expected to add roughly $2 trillion to global GDP by 2023.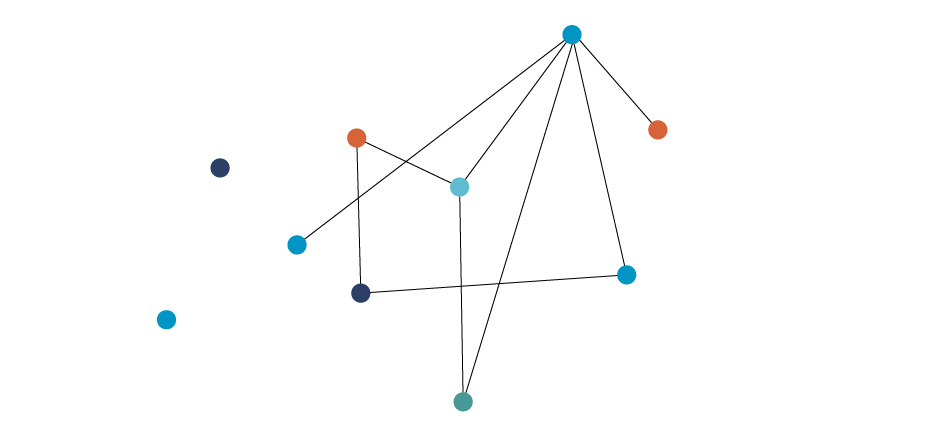 However, manufacturers adopting industrial IoT know very well that complex challenges like workflow optimization will not be resolved automatically by smart devices. Investing in changes might prove "dumb" in the absence of a robust, scalable, secure and interoperable IT infrastructure. For example, real-time recording of data can result in skyrocketing costs of its storage and processing. Without smooth connectivity and adaptable solutions, smart tools by themselves will not deliver meaningful results. Compliance is another critical factor: IoT devices often handle sensitive information that needs to be reliably tracked; without a database solution for complex systems, complying with audits of volumes of data will be expensive.
Blockchain technology has promised to resolve many of these challenges; however for compliance, auditing, and practical purposes, it must be secure and lightweight.
Blockchain Barriers
Unfortunately, traditional solutions are mostly unfit for smart manufacturing use cases, for the following reasons:
No IoT Expertise

Scalability of IoT telemetry had not been a major point of concern when currently mainstream blockchain solutions were developed, they are not able to reliably process large quantities of telemetry data

Expensive

The mounting costs of using a large number of IoT devices for smart manufacturing applications make existing blockchain solutions infeasible

Weak Security

Blockchain networks, especially smaller ones, are far from adequately protected. For instance, systems using proof of work consensus mechanism can be compromised by a malicious actor who takes over more than half of the nodes
The Geeq Difference
Geeq's entire ecosystem is designed to provide incentives for everyone to share in the surplus of participating in a new, open, and accessible digital services economy.
Get In Touch
Security

Geeq's unrivaled security makes it well suited to processing real-time recorded, critical data for compliance and auditing purposes, allowing smart manufacturers to inexpensively, consistently, and convincingly prove compliance with regulations and procedures.

Inexpensive

Ultra-low transaction fees make Geeq an ideal solution for IoT devices that collect data frequently, while being device-agnostic.

Expertise

Geeq is run by a world-class team with profound expertise in the IoT field. For instance, John P. Conley (Chief Economist & Founder of Geeq) has been careful to respect the physical constraints intrinsic to applications with IoT.
Get In Touch
Inexpensive, highly scalable, quantum-ready
Learn how Geeq can revolutionise your smart manufacturing and IoT capabilities.
Download Presentation
YOU HAVE QUESTIONS
We have answers…
Geeq's Limitless Applications
The Geeq platform is application-agnostic. That means it is possible to build any blockchain-based application, powered by its own decentralized network, using Geeq's protocols and automatic payment systems to crowd-source your blockchain(s).
When would you need Geeq?
The possibilities are endless. Here are 5 economic and business scenarios where Geeq excels:
Enabling multiple organizations, whose interests may not fully align, to cooperate and exchange data: Geeq applications are able to accelerate, automate, and streamline interactions among stakeholders in areas such as supply chain finance and logistics or standards-setting in emerging fields such as semi-autonomous vehicles.
Creating a highly secure, auditable record of documents or data: Geeq's commitment to the integrity of blockchains reduces the costs of record-keeping, search, retrieval, and reconciliation of documents or data. Geeq blockchain databases provide a dependably neutral and easily accessible way to satisfy demands for information coming from all directions. Because Geeq's blockchains are able to create audit trails in real time and/or validate telemetry data, applications built on Geeq are ideal for traceability and compliance in areas such as workplace safety and efficiency, insurance, energy, accounts management and customer service records, quality assurance, and more.
Securing vital documentation: Geeq offers secure, blockchain-enabled applications for verification of precious documents such as securities, land titles, or large financial transactions. This is particularly useful when stored documents must be certified as exact copies of the originals or when there is uncertainty about characteristics in the definitive version.
Providing decentralized micropayments processing: Geeq enables users to send and receive small payments directly, creating multiple micro-value chains where they have not been possible, such as in the creator economy or in machine-to-machine markets.
Facilitating decentralized transactions between individuals: Geeq can be used to create peer-to-peer markets and escrow services, without a central intermediary, at minimal cost.
The Geeq Difference
Geeq blockchain-based services are:
Inexpensive: Basic transactions on Geeq cost a fraction of a cent, making it affordable for everything from IoT applications to micropayments.
Secure: Unrivaled 99% Byzantine fault tolerance and strategically provable security.
Scalable: Geeq's multi-chain architecture enables limitless scalability.
Flexible: Geeq offers application developers the ability to build their own, customized solutions.
Fast: Geeq's Proof of Honesty protocols make Geeq's speed competitive with centralized systems.
Light: Every application is served by its own decentralized network, so there is no shared overhead.
Upgrade-ready: Geeq's completely new framework adds several years to the lifetime of traditional cryptography with a pre-planned upgrade path for longer term, Quantum-ready solutions.
The technology at Geeq's foundation is sleek, efficient, and optimized to provide sensible and secure services such as multi-signature transactions natively. Geeq's own applications bolt directly on top of our validation layer for immediate deployment and may be white-labeled and we are glad to work with you so you can create and launch the decentralized solutions you would like to see in use.
Geeq partnership unlocks next-generation blockchain's potential for business transformation
Waterloo, ON, Canada, January 2022: Blockchain pioneer Geeq Corporation has formed a strategic partnership with market-leading management consultancy Alchemmy. The partnership enables Alchemmy to offer its clients the best technical solutions for their specific business needs, while giving Geeq access to a new client base.
As one of the UK's leading management consultancies specializing in digital transformation, Alchemmy recognized the game-changing potential of Geeq, particularly for micropayments and notary service applications. Geeq enables micropayments to be transacted for costs as low as a fraction of a cent, while its notary service provides a modular, non-invasive data consistency layer for enterprises.
While decentralized technology has long been heralded as the next frontier for digital transformation, Alchemmy's clients have been frustrated by limitations of the underlying consensus protocols, such as high transaction costs, limited capacity and reliability, environmental concerns, and security vulnerabilities. In contrast, Geeq's multiple independent blockchains, combined with the Proof of Honesty mechanism, offer unlimited scalability while bypassing the security and congestion concerns of current platforms, along with very low transaction costs and low environmental impact.
Geeq's Proof of Honesty protocol offers real, secure scalability without a high carbon footprint, which makes it the right option to offer our clients. We are delighted to join forces with a project, platform and team that align with our passion for doing the right thing — for the planet as well as for our clients.

Alchemmy Co-founder Dipak Patel
In Alchemmy Founders Dipak and Nik, we see deep subject matter experts with an exemplary pedigree in crypto who can help us expand adoption of the Geeq platform. We are only starting to scratch the surface of what blockchain can do; Proof of Honesty and micropayments will be key to expanding these opportunities, and Dipak, Nik and Alchemmy are perfectly positioned strategic partners for Geeq as we push the boundaries of possibility.

Geeq CEO Ric Asselstine
For all inquiries please contact press@geeq.io.

About the Geeq Project
Geeq is a multi-blockchain platform secured by an entirely new consensus mechanism called Proof of Honesty (PoH), which radically reduces the cost of securely transacting value at scale. It is safe enough for highly valuable data, fast and cheap enough for IoT, and flexible enough for any use.
Geeq was founded by a team of expert economists and technologists. The founders see unprecedented opportunity in decentralized technology that to date has not been realized, as existing blockchains are caught in a trade-off between scalability and security. Geeq resolves the dilemma with an accessible, dependable, low-cost solution that does not sacrifice either trust or capacity, unlocking blockchain's real potential for the real world.
About Alchemmy
Alchemmy is a transformation specialist that delivers sustainable change for clients through data and design. With deep expertise in retail & consumer products, transportation, and the public sector, its consultants help clients to address their biggest challenges in growth, operational improvement, digitalization and change. For the past three years, the Financial Times has named Alchemmy one of the UK's Leading Management Consultancies in the category of digital transformation.

Forward Looking Statements
Statements in this press release, including statements relating to Geeq's and Alchemmy's future plans and objectives or expected results, may include forward-looking statements. Forward-looking statements are based on numerous assumptions and are subject to all of the risks and uncertainties inherent in technology development and commercialization. As a result, actual results may vary materially from those described in the forward-looking statements.
Company: Geeq
Contact: Bridie Mitchell
Email: bridie.mitchell@geeq.io
Website: geeq.io
Address: 554 Parkside Drive
Waterloo, Ontario, Canada, N2L 5Z4
Company: Alchemmy
Website: alchemmy.com
Address: High Holborn House (4th floor)
52-54 High Holborn
London WC1V 6RL
United Kingdom



Enterprise Adoption : Not a matter of "if" but "when"
Last week, Geeq's very own German Ramirez, our Global VP of Marketing, gave a presentation on enterprise adoption at the digital conference entitled "Blockchain in Business 2021 – Structuring the new business environment".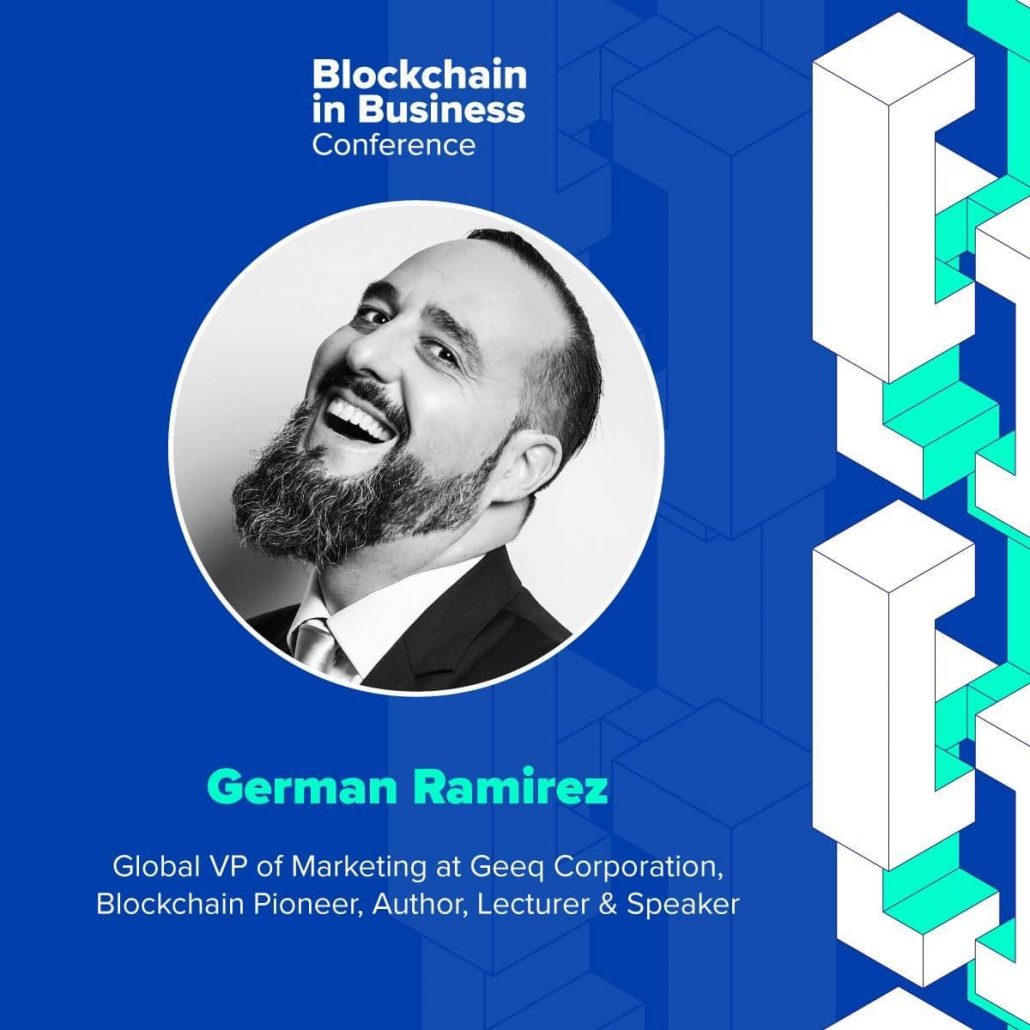 German was asked to help businesses better understand and unlock the full potential of Geeq's technology.
For example, the increased complexity of supply chains in a globalized world pose operational challenges to each participant. Cases abound that require coordination that Geeq's blockchain-driven, information-oriented solutions have been designed to simplify. Achieving the desired level of trust and immediacy has been costly, perhaps prohibitively so, until now.
By incorporating the benefits of automation such as feedback from easily retrieved data generated by IoT, both the data and how it is used must provide information that is helpful and unobtrusive.
The new generation of blockchain must reduce friction in the process rather than add to it.
To address this example, German outlined the requirements for these new blockchain solutions. First, the next generation of blockchains must be able to secure supply chain data as well as be prepared to facilitate machine-to-machine payments.
Blockchain solutions should, at minimum, surpass the bar of being cost-effective and, even better, be less expensive compared to current solutions for enterprise problems.
The new generation of blockchains must be reliable, secure, and interoperable. Most of all, they should be ready to scale.
It is common knowledge the previous generation of blockchains were not built to scale. While they iterate on scaling solutions, there remains uncertainty on many fronts: the scaling methods themselves, their security, their resource requirements, and many other issues.
These debates about older generation blockchains have been long running. As they have taken place, early adopters in enterprise have experimented with private blockchains. Do these harness the power of decentralized networks? Not fully, so the scope of problems that have been addressed has been limited.
Moving Enterprises Toward Yes
One of the distinguishing characteristics of being a Geeq is having a grounded, practical approach to adoption. Or, as German likes to say: working to bring the power of blockchain to Planet Earth, rather than leaving it to the niche enthusiasts on Planet Crypto.
The disconnect occurs when Planet Crypto touts a world of future gains while skipping lightly over the disruption of implementation. The results of these sales pitches speak for themselves. Across all industries, the majority of enterprises are somewhere in the exploration and evaluation phase, and getting caught up in difficult questions – which blockchain should they use, for what pilot, and how will those translate to their businesses, when, and where?
As in all technical decisions, enterprises are interested in solutions that deliver cost savings almost immediately, rather than some unspecified time in the future. Will the new generation of blockchains meet that need?
Geeq is prepared to address these concerns with its honest answers and easy to use blockchain-based solutions. The range of solutions Geeq offers are appropriate for enterprises that need blockchain to improve their internal activities, as well as enterprises gearing up to expand their customer base by offering public applications.
Geeq is also able to customize "mixed" blockchain-based applications for situations where tools are needed to satisfy stakeholders with different priorities over the same data.
Geeq is a leader in new generation blockchains
Geeq addresses a problem organizations face right now — particularly those that have grown through mergers and acquisitions and/or must re-evaluate their overall cyber-security readiness. We are developing services that were impossible to achieve before.
Geeq Data simplifies the process of enterprise data integration (EDI). Data in large organizations tends to be silo-ed in different data systems across various departments, subsidiaries and divisions, making it difficult to obtain an overview. German detailed how Geeq is able to create a data consistency layer that provides visibility across an entire organisation. Importantly, this approach enables organizations to retain the processes that work for them and is able to build on employees' comfort with their existing data systems.
On a slightly more cautionary note, the talk touched on how edge security will become paramount in a global economy that includes trillions of connected devices. Here too, Geeq's solutions provide the additional security of blockchain. Drawing from first hand experiences with technology products over decades, the Geeq team anticipated exponential growth and architected an infrastructure to support scalability from the start.
Beyond globalization, the climate crisis is another key vector of change. To meet increasingly stringent environmental targets, we know the end game will require changes in the way we travel, particularly in cities. A significant percentage of the CO2 emissions of vehicles stems from their production, and an average car spends the majority of its lifetime parked.
To address these and other urgent, thoroughly modern priorities, the Geeq team is ready to work with those who prioritize the adoption of technologies that are beneficial for enterprise and society. Examples that motivate German are how blockchain-based micropayments can be used to underpin a smart mobility approach to urban transport and remittances.
Geeq Pay micropayments also create new pay-as-you-go revenue streams. Business models in the news, music and gaming industries were mentioned. But these are all extensions that highlight the capability of the new generation of blockchains – at Geeq.

The full presentation from the conference is here.
Conclusion
German was glad to have the opportunity to showcase the potential applications of Geeq for enterprise clients to a wide-ranging, business focused audience.
Geeq's technology is built to satisfy the challenges enterprises face now, and in a future-proof, scalable way. Geeq's team is made up of experts who, like German, have long experience in evaluating technologies from both sides of adoption: building products from the ground up and delivering new ways to provide value to customers.

To stay up to date with the latest updates and events concerning Geeq, don't forget to sign up for our newsletter. We welcome all enterprise decision makers to contact us about partnering with us. Let's talk about your use case!
Geeq™ Value Proposition – An Add-On Approach to Enterprise Adoption
Blockchain technology is moving beyond hype into serious territory. With multiple online services looking for the "next big thing", blockchain is a natural fit for many companies who are ready to disrupt and innovate.
While existing blockchain platforms contain limiting factors which slow enterprise adoption, Geeq's blockchain architecture supports a limitless, scalable, and secure digital platform. In fact, our entire business model is there to enable enterprises to outsource their own blockchain services' validation process, using Geeq's secure validation mechanism, Proof of Honesty (PoH).
In short, we have designed our ecosystem to tick all the boxes necessary for big businesses to make that shift toward blockchain.
Exactly how Geeq's Proof of Honesty produces a reliable record of information in the blockchain has been explained extensively throughout explainers and technical articles, all geared toward an audience already familiar with blockchain.
To help you visualise the difference, here's a handy table that breaks out ways "security" must be considered in a discussion about adopting blockchain (the list in the first column). As you can see in the green column, Geeq's technology is the only one that addresses all of them. Every other approach is far more vulnerable, which means it will be harder for your business and your customers to trust.
Geeq's unique platform offers a huge improvement on the existing market. In fact, Geeq blockchains have all the properties that blockchains had been working toward.
What does this mean for you and the enterprise you represent?
This article is written specifically for those tasked with investigating how blockchain fits with enterprise services. Especially those who must keep their enterprise information technology and cybersecurity groups' needs aligned. It assumes interest in providing blockchain services and that decision makers wish to provide the highest level of security and reliability of information at the lowest cost. Geeq is built to become the industry leader in helping enterprises adopt blockchain.
Here, we provide an overview for why enterprises should use Geeq's tools and data service as their blockchain platform of choice.
Why 'Geeq Blockchains for Enterprise' At All?
The Increasing Need to Add Fully Decentralised Technology
Cybersecurity attacks on centralized databases have become more sophisticated than ever before. So it's no reason why decentralized alternatives are top of mind as potential solutions to this threat.
How can decentralized databases increase security? To put it simply, fully decentralized blockchain networks can counter the threat of cyber attacks because they bypass central points of failure and store data in multiple places.
Building a fully decentralized blockchain platform that can counter the worst cyber security threats has always been top priority for Geeq. Unlike many other blockchain platforms, Geeq's Proof of Honesty protocol has a fully decentralized system from the beginning. Alternative blockchains have experimented or proposed systems that begin with some degree of centralization (for example, the structure that was proposed for Facebook's Libra coin), with a plan to move to a more or fully decentralized system in the future.
The Geeq Team is highly skeptical of a strategy for decentralization that relies on gradually phased in decentralization. The reason is simple, enduring, and not easily solved.
Once some central authorities have power, how does the system convince them to give that power up, without forming other powerful authorities?
If there exists any degree of centralization in the processes of approving, writing, and serving the blocks in your blockchain, the full benefits of security via decentralization cannot be realized, by definition. Enterprise adopters should be skeptical of the benefits of non-decentralized blockchain compared to business as usual. As one example, when a blockchain provider gives you a choice of blockchain platforms, many of those platforms' engines are vulnerable to changes that powerful communities may vote on or implement. This is akin to centralized software providers, such as Microsoft, who push updates without your knowledge to your data systems. When faced with an unexpected software surprise or a break in communications to the central server of your data, even the best run enterprises will face costs measured in time, energy, expense, and reputational harm.
Geeq's team understands these concerns and headaches all too well. That's why Geeq's innovative, patent-pending technology and platform design unlocks the full benefits of decentralized blockchain, guaranteeing a stable protocol with extremely low costs for its data service. It is probably fair to say that Geeq offers security that would take many generations of "updates" for other platforms to develop, assuming they could make a transition to true decentralization.
Additional Data Services without Additional Cybersecurity Concerns
At the same time, enterprise cybersecurity teams are right to be cautious about adopting technology that may introduce unintended or unexpected attack vectors to their existing systems. Anyone who is a Geeq understands this as well. Therefore, Geeq's blockchain platform is a back end data service that stands alone.
Using Geeq's blockchain platform does not require an enterprise to integrate Geeq's technology with its own technology, in order to create and store useful blockchain data for the enterprise.
Cybersecurity concerns of adopting Geeq blockchains are reduced, then, to permissioning or granting access at the application layer. These are not new problems for the cybersecurity experts in any enterprise.
It's Time for the IT Group to Ride this Wave
Enterprises who have delayed adoption of blockchain may have done the wise thing compared to those who tried to develop their own blockchain platforms in-house. Geeq has done the research for you, now you are able to benefit while Geeq charges you mere pennies (or less) for your usage.
Benefits of Geeq's Multi-Chain Platform: It's Modular
Enterprise decision makers are very aware of how technology choices can have ripple effects across their organizations. That's hard. Why do that when you don't have to?
Geeq's platform is unusual because it restricts application-specific smart contracts and DApps to a DApp-agnostic, multi-chain layer. Any enterprise may choose to use its own DApp chain(s). Thus, you are able to make decisions on a case-by-case basis. Geeq as a blockchain data service is designed as an add-on.
This structure reduces infrastructure cost, adoption, and commitment to blockchain to an à la carte, help yourself basis.
Finally, what is your enterprise's best use of blockchain? In Geeq's view, aside from trading cryptocurrencies (which has been blockchain's primary use until now), blockchains that could not provide security guarantees to enterprises actually aren't much use at all. That's why every aspect of security received so much attention in our protocol development.
Geeq's Proof of Honesty ushers in the next phase of blockchain technology for enterprise, enabling the use of any blockchain service that has been imagined.
As well, Geeq's platform supports smart cities, micropayments, and volumes of other financial transactions without limit. Because Geeq has reconstructed blockchain technology to solve the security-scalability-cost issues, enterprise adopters finally can be confident that the data they access and ingest from Geeq blockchains will have the data properties that early blockchain proponents promised, with the full scope of decentralized blockchain uses before them.
Solving these persistent problems is the reason Geeq exists and occupies a unique niche in the blockchain space. By utilizing our team's multiple skill sets, Geeq has called upon its collective wisdom to craft an enterprise blockchain platform that is versatile, efficient and built to extend services seamlessly into the future.
Conclusion
Geeq will enable the Enterprise Solutions to enter the second wave of blockchain adoption and take it to the next level.
The major arguments for using Geeq as a blockchain data service are that Geeq's technology enables blockchains to have the properties that were promised. For enterprises, Geeq's blockchain platform as a service offers:
Security for all users in an enterprise without introducing new attack vectors for their cybersecurity departments
Flexibility, low costs, and an add-on approach for the enterprise so blockchain services may be adopted at the pace desired
The ability to give their customers assurances that the enterprises themselves are using a blockchain-based service that has no intermediaries, which provides commitments to transparency, accountability, and quality assurance
The assurance enterprises are adopting a full-fledged decentralized blockchain platform for business solutions
Services from a company that intends its technology to stay well ahead of the curve
Let's build our businesses together! Separately – but together. Respectfully. That's the way of going Geeq.
Photo by Denys Nevozhai on Unsplash
Geeq AMA with Unizen – RECAP
The AMA with Unizen on October 29th had been in the works for awhile. Unizen enters the digital asset economy with leaders who have had success in both the centralized and decentralized worlds of finance. The morning of the AMA, Unizen announced Geeq had been selected for Unizen's incubator program, ZenX, and also for its Smart Exchange Dynamic Multi-Asset Staking (DMAS) program.
We would like to thank Neon Block Unify for hosting Geeq's Co-Founder John Conley and Head of Marketing, German Ramirez, and warm welcome to the Unizen community.
This transcript has been lightly edited for easier reading. Let's get to it!
Moderator : Neon Block Unify
Geeqs: German Ramirez, John Conley
Channel Muted for GEEQ AMA session
Neon BlockUnify: @gerramirez and @J_P_Conley welcome to the Unizen chat!

German: Honored to be here, and looking forward to the AMA!
Neon BlockUnify: So the AMA questions are pretty open ended. we would appreciate elaborative answers… feel free to go all out! Let's begin.

1. Can you give a brief overview about Geeq? What is the backstory behind it?
German: Technology is fundamentally shaking everything. It is causing the physical, digital and biological worlds to converge.

This is a huge opportunity and a huge challenge. An unprecedented opportunity to amplify our abilities, increase productivity, and tackle global problems.

However, technology and data are currently heavily centralized among a handful of players. This centralization skews the value chain of entire industries towards intermediaries, hindering innovation and competition, while giving rise to grave cybersecurity risks.

We believe decentralization is the answer, and that is how it all started, nearly 5 years ago. Maybe John can take us back to that journey>

Neon BlockUnify: Centralisation and Value Chain Paralysis! Oh boy, this is one of my favourite topics of discussion.

John: Hi Everyone, so glad to be invited to this AMA. I'm John Conley, and I guess I've been with Geeq from the beginning.

As for the backstory, here is a relatively short version. I spent a year at Microsoft in 2016-17, and one of the projects I worked on involved blockchain. This was new to me, so I started to learn about it. I ended up reading about 80 White papers and did some deep dives into cryptography, network theory, systems, communication protocols, and so on.
Microsoft Research was a great place to do this since experts in all these areas were usually a hallway away. I came away from this concerned about the game theoretic foundations of existing consensus models as well as the incentive structures and monetary foundations of these projects.

I'm a specialist in mechanism design and implementation theory, so I developed a new approach called Proof of Honesty that I believe solved many of these problems. I promptly had my heels locked together by the CS and distributed systems folks at Microsoft who pointed out a whole array of other problems in communications, networks, etc. that also had to be worked out. We have been building on this ever since.

Geeq itself started when Ric Asselstine happened to read one of my papers and contacted me to ask if I could help with some IoT applications of blockchain. We started to work together on this idea, but I kept realizing that it would be difficult to build on existing platforms. I told him about the idea I had for a different approach to consensus, and we quickly dropped the original project to focus on what eventually became Geeq. One thing led to another, Stephanie So and Lun Shin Yuen joined as founders, and since 2018, we have expanded to include a crypto team, a marketing group (hello German and Anna!), developers, legal, administrative, and customer development people, and various partners and investors. It has been extremely challenging, but also very rewarding.

German: In a nutshell: We believe that decentralization can lead to a better economy for everyone. But for decentralization to be viable, decentralized networks have to be at least as functional as our current infrastructure. This means that better blockchain technology is needed, with the cost-effectiveness, reliability, security, flexibility, and interoperability required to be deployed at scale. This is why we created Geeq, starting from scratch. And so, the journey begun.

Neon BlockUnify: Absolutely, I can relate with John here because all the softwares that are eating our world have scalable system design as the bedrock.

John: Ah, however, the current softwares of the world – the last generation, one might say, take your data for themselves because they tend to be able to read in plain text.

Neon BlockUnify: Yes, absolutely.

John: What is needed is a decentralized version of the base layer that gives more protection.

Neon BlockUnify: It is the base layer for "all things economy"! Okay, the AMA started on a really strong note. Fascinating backstory!
2. Geeq intends to build a blockchain based decentralized economy, How would you achieve that? What is role of PoH consensus here?
German: Blockchain has transformative potential. Decentralized person to person content markets, machine to machine markets, and new approaches to digital rights management all require cheap, secure micropayments. Creating audit trails, records proving compliance or chain of custody, and IoT monitoring and control all require that large volumes of data to be placed in a credible, non-manipulable record. Tokenization and public records, both require strong security guarantees. Why don't we let John explain the ins and outs of it.

John: I'd be glad to. The common element PoW, PoA, PoS, dPoS, and even DAGs, is that in some way shape or form, a qualified majority gets to decide what the truth is. If the majority says an apple is an orange, users either have to accept it, or walk away from their accounts.

Neon BlockUnify: Yes! Great analogy.

John: The fundamental idea of PoH builds on the fact that the Geeq protocol (and all other well-designed DLT protocols) is deterministic. Given a set of candidate transactions and a ledger state, there is only one set of valid transactions, one block that can be built, and one way to update the ledger. Anything else is dishonest.

I will try to give you the overall view of the game theoretic aspects of consensus, which I think has really been missing in the discussion of blockchain. This is where I get very enthusiastic about what Geeq can add, so please pardon the longer explanation.

PoH leverages the determinism of its protocol. Geeq's workflow ensures that all the nodes in a given validation network consider the same set of candidate transactions. Each node then separately and independently decides which transaction are correct and what the next block and ledger state are. Geeq has no leaders or block proposers. All nodes are equal. Nodes share their view of the ledger state as they each consider the next set of candidate transactions.

The key is that either there is unanimous agreement, or some nodes are dishonest. Honest nodes are able to prove the dishonesty of nodes with different views, and can write audits to remove them from the validation network. These audits result in the confiscation of Good Behavior Bonds posted by the dishonest nodes to be shared among the honest nodes. This audit mechanism is constructed in such a way honest behavior by all nodes is the only coalition-proof equilibrium (which is a much stronger statement than honest behavior is one of many Nash equilibria).

Neon BlockUnify: I like game theory, sir, all ears! All this farming etc. is essentially gamification of incentives.

John: That's great news. And yes, gamification has brought up a lot that is getting a much faster reaction in terms of people looking at incentives.

We found the closer scrutiny of Layer 1 and Layer 2 solutions to have increased in game theory interest as well, which is heartening, as that is where we started.

In a nutshell, Nash equilibrium concepts are not sophisticated enough to think about in markets like these. They don't take account (or haven't in this area) repeated games, and opportunities for collusion in such circumstances.

Geeq's Proof of Honesty also allows the following:
• Users are empowered to protect themselves.
• It does not matter if a majority of the nodes are dishonest. Users can detect and ignore them.
• This means we only need one honest node in the system. If users can find an honest ledger, they will always use it no matter how many dishonest versions are kept by dishonest nodes.
• Buying ASICs or staking tokens, or even Sybiling does not threaten the security of Geeq since users pay attention to honest nodes, ignore opinion of dishonest ones, even if they are a majority.

German: The beauty of a genius mind at work 😅

John: It's an advanced idea that has been thrilling to work on, I admit, but it is the ability to implement it and have the support of a community who believes in it that makes it worthwhile.

Neon BlockUnify: Actually, the popular L1 and L2 protocols don't really answer the concepts john has talked about. So that's an interesting outline of thoughts.

John: We hope they will explore the ideas more thoroughly. It is happening now, whereas a few years ago, the only thought was about scalability.
3. How does Geeq cater to the Micropayments niche ?
German: We believe Micropayments are a tremendous opportunity for our global economy. They enable more granular, fluid and responsive markets, forming the foundation of a decentralized, sustainable and open economy.

The possibilities and use cases are endless. Micropayments make feasible such things as:
• Small fixed payments for access to a newspaper article, a Medium post, a single song, a Podcast, a YouTube video.
• Tipping, and micro-donations.
• Buying an in-game buff, skin, or magical sword.
• Steaming payments for online game play, access to content delivery services, or the services of any SaaS platform.
• Machine to Machine Markets
The list is endless…
John: German and the rest of the team are very good at thinking of many, many use cases and matching them to audiences who are interested.

From a technical and economics side, micropayments are one of the most interesting contributions the Geeq project makes possible. This has always been one of the great promises of blockchain, but high transactions costs, limited scalability, and a lack of security have prevented this in practice. Geeq can process payments at a cost of less than 1/100th of a cent.

Here is why that's so interesting to me as an economist.
Markets exist to take advantage of gains from trade. When one person values something more than another person, they can agree on a sales price that leaves them both better off.

But what happens when the gains from trade are on the scale of fractions of pennies? Markets in this case are only possible if transactions costs are less than potential gain, and existing payment rails are simply too expensive.
Neon BlockUnify: Yes, the market scope is huge here.

John: Yes! Some of you may be aware that I recently gave a presentation about what we call "the Micro-value chain".

Neon BlockUnify: I was coming to this very conclusion!

John: This MicroValue Chain is currently nonexistent. (Yet) It applies to fintech, and nearly every sector you can think of.

To be more specific, Geeq has developed several forms of micropayment vehicles and filed PCTs for patent protection in 2020 and 2021. It is a very exciting prospect since it enables a whole array of decentralized, peer to peer, communications and exchange without big tech or large centralized intermediaries.

Neon BlockUnify: Awesome, shall we move to the next question?
4. How can your platform help in automating supply chains?
German: Supply chain management has grown increasingly complex over the past half century. Globalization has further increased complexity. Involving more entities, however, makes coordination for quality control, enterprise resource planning and compliance more complex, while the whole is only as strong as the weakest link.
Neon BlockUnify: And the current lockdowns have added burden on this "not so yet digitized" industry.

German: Oh so true!

John: An advantage of having the Geeq team working together across the world is that some of our Advisors, such as those in Switzerland and Singapore and Canada, have been aware of these problems and how they mix with finance for years.

Again, approaching supply chain issues from a database solutions point of view, the economics problem is that supply chain is probably the most important example of what are called "distributed business processes". That is, processes that involve actors from different organizations or companies who all need to work together to accomplish a task, but who also have individual incentives that conflict.

German: Here is where blockchain comes into play. Blockchain promises to increase transparency for the relevant parties, prevent duplication of administrative work, and automate transactions through smart contracts and Internet of Things (IoT) devices.

John: Exactly as German says. Blockchain, at its root, is a data service that provide a provable source of consistency. Counter-parties can hand-off responsibilities to one another, and create a non-refutable record of the state of the process (condition of a cargo, the state of paper work, payments sent or received, work completed and accepted, etc.). Other actors can refer to these blockchain records to give credit or assign blame.


For this to work: records have to be secure and trustworthy (which has to do with the consensus approach), the data service (blockchain) has to be able to support large scale and rapid record creation, and the cost of a creating a record has to be low.

PoH (Proof of Honesty) provides the foundation for secure, trustless interaction. GeeqChains are scalable and can record receipts, handoffs, service requests, record updates, IoT telemetry, and so on at a cost of 1/100th of a cent. We have positioned our technology to be a perfect fit for supply chain as well as for the growing network of connected devices.

Geeq and PoH are geared toward the future of coordinating sources of information into this layer of data consistency for more efficiency all around.
German: And here is the beauty of it for supply chains! Geeq's interoperable, multi-chain architecture allows businesses to create purpose-built block-chains optimised to specific supply chain applications. This flexibility is achieved through a two-layered structure: The Validation Layer and the Application Layer. This two-layered structure for each blockchain means it is highly flexible. Your supply chain may use an existing application, or you can write a new one to securely connect to a validated and dedicated blockchain database through an API. Geeq is an application-agnostic technology, able to support decentralized apps, native tokens, and smart contracts. It provides everything you need, with no bloat.

John: No bloat. I like that. Have to concentrate on boats right now.

Neon BlockUnify: Can't wait to deploy a letter of credit dapp on Geeq.

John: YES.
5. What is your view on enterprise blockchain vs crypto? How do you balance between the two?
John: Enterprise blockchain, also known as private or permissioned blockchain, has a place, and perhaps more tellingly, enterprise blockchain in the permissioned sense is still highly demanded.

Geeq's technology is a good fit for enterprises.

Private Geeq Chains can be deployed to help enterprises coordinate distributed business processes, outlined above, without the need for mutual trust. Even within a single enterprise, we have been exploring with some potential customers how Geeq can be used for "Enterprise Data Integration" (EDI) projects. Enterprises use different data systems in different divisions and departments (the needs of HR are not the same Legal or customer support), and these problems are magnified when companies merge or acquire subsidiaries, possibly even in different countries. Data chaos is often the result.
We have developed an architecture for EDI that leverages Geeq as a source of consistency and allows otherwise incompatible data systems to share essential information without having to tear everything down to its foundations.
Public, non-permissioned, blockchain is our focus, but does not compete. Our public network of multiple instances of interoperable chains (allowing micropayments and other more traditional crypto services) exists separately from any private instance. If enterprises wish to have a private instance, and we hope they do, we think there are many things it can offer. It will not, however, be able to interact with the broader public network.
Neon BlockUnify: That's important for future proofing the architecture! Completely agree with your approach.

John: Indeed. It's important for Geeq, and the blockchain industry in general, to think about meeting adopters where they stand, and bringing them along to solutions from there.

Of course, for those who understand the potential of permissionless blockchain already, what happens slowly should not be able to slow them down.
6. Understand you might not be able to disclose details, but what are some oft the current "hottest" use cases and adoption possibilities that you are discussing as we speak. What can we expect to see in the months to come?
John: Well, while you are correct that we can't disclose all the details involving others, we do have some news for you.

We are certainly aware of the past summer of interest in NFTs (non-fungible tokens).

It happens that we had been looking forward to developing a technology for NFTs in the general sense of non-fungible tokens and multi-lateral atomic transfers as part of our base protocol.

In the context of gaming, anyone can set up an NFT mint and create NFTs for use in gaming or collectibles, to tokenize assets, or any other purpose. Developers of applications deploying NFTs may customize the characteristics of the NFTs in their own databases. Once created, however, the NFTs properties are fixed and immutable. That, of course, is key to whatever NFT that is "non-fungible" in the economic sense of the word.

Geeq's technology works this way: ownership of NFTs is attached to coin accounts, and direct sales and transfers, as well as atomic transfer are all possible, and without the use of smart contracts. This makes NFTs and NFT transactions simpler, more secure, cheaper, and not subject to coding errors that might arise in smart contracts.

German probably is the better person to ask about the customer interest this has created.

German: Sure! As we currently speak, we are in conversations with different players and industries about deploying Geeq for their use cases. Some concrete examples of hot topics currently:

GAMING: We are exploring a case with a global gaming company to leverage our micropayment capabilities to create in-game NFTs that represent specific limited in-game items, adding a layer of real value in a virtual world.

NGOs: We have a proud and big heart at Geeq…We are in close conversations with one of the leading NGOs worldwide, to enable micro-donations at scale, lowering the barrier for people doing good. Exciting!

These are just two of many exciting recent developments that we expect to crystalize into tangible applications. We can't wait to be able to announce some of these and many more to come as they start materializing. An exciting time to be a Geeq!

John: It is, and for those who have already been following Geeq, they will know Geeq chooses its partners extremely carefully. We choose partners who share our vision, are working alongside us to broaden blockchain's usefulness with security and accessibility for all, and who have incredible reputations, work ethic, and clearly are ready to work with us for the long term. I hope everyone here will see that play out for themselves.
Final Question: 7. What are your long term goals?
German: Based on the uniqueness of the Geeq technology and its many potential applications, we are excited about the prospect of becoming a household brand in the blockchain world. We are working relentlessly on all fronts, with the technology at its core, to deserve being named in the same breath as the current leading layer 1 blockchain protocols which you are all familiar with. And with the help, trust, and support of the Unizen community and ecosystem, we look forward to coming one step closer to that goal 😉

John: Our ultimate goal is providing people with a way to interact and create value independently and without the need for trusted (and untrustworthy) data intermediaries.

People should not need to have permission of large corporations to create, exchange, or exist in a technological society. Our hope is that we can provide some of basic tools to allow people to be people.

Neon BlockUnify: Thanks @J_P_Conley and @gerramirez for this insightful AMA!

German: A true pleasure and honour!

John: Thank you very much for hosting us!
Neon BlockUnify: On that note, we are proud to be welcoming $GEEQ to the DMAS Family! ❤️❤️
John: This is very exciting for Geeq, and we look forward to great things together! Thank you!
German: Muchas gracias!

John: It's fantastic news. Thank you to the entire Unizen and ZenX family. We at Geeq are proud to be selected.

FauxFire: Welcome to the Unizen Family!

John: Thank you! We would like to invite everyone who is interested to Geeq's telegram group to celebrate!

German: Whooop Whoooop 😍

Neon BlockUnify: Yes, please, do share the link!

John: https://t.me/GeeqOfficial
Come and meet the Geeqs – they're friendly, welcoming, and most of all, see the future.

German: And while at it, help us shape the future!

John: Thanks to all.

Happy Ending: Thanks team Geeq awesome AMA. Good luck with the project 💪🏼
Geeq Corporation Announces New Patent-Pending Payment Technologies
Geeq Corporation proudly announces its new patent-pending payment technologies: bearer tokens and certified tokens. These innovations significantly advance the capabilities of blockchain technology to transfer and convey value in a decentralized manner.
A hallmark of Geeq's blockchain technology is that it is useful for mass adoption. A persistent barrier to adoption has been the level of difficulty in transferring cryptographic assets from one account to another. Bearer token and certified token technology simplify ways for a blockchain account holder to transfer value to a non-specific recipient or a pre-specified recipient, respectively. These categories of tokens have characteristics that are analogous to cash (bearer tokens) and certified checks (certified tokens) in traditionally intermediated financial markets.
Geeq's bearer token technology primarily applies to cryptographic assets that exist on a blockchain, such as cryptocurrencies, non-fungible tokens, rewards points, etc. Geeq's certified token technology may be further generalized to transfers of physical assets or shares that exist off-chain but are recorded on blockchain as tokenized assets, such as car titles, stocks, or other official documents.
These technologies also include the ability to customize tokens with locks, expiration dates, and reversions to the original account if unused.
Geeq's patent-pending technology also includes a wallet to facilitate the use of these tokens, several applications enabled by these tokens such as micropayments, machine-to-machine payments, and streaming payments, as well as UI/UX that support these functions and uses.
Introducing Geeq's Bearer Token Technology
Bearer tokens are a category of tokens that allow a blockchain account holder to create a token with pre-determined value. The bearer token is a simple data file, such as a small text file, that could be stored on mobile devices, gift cards, as QR Codes™, in directories accessible to browsers with plugins or on paper, for example. A bearer token enables the account holder to carry the representation of that token's value freely, that is, detached from their blockchain account and the limitations and frustrations associated with cryptographic wallets. In this sense, bearer tokens are analogous to denominations of cash.
Once a bearer token is created, it may be transferred to any recipient. The recipient may be a person or a machine. The recipient is not required to have a pre-existing account on a blockchain. The account holder may spontaneously convey the bearer token, peer to peer, via text, email, as a .pdf, as an exchange of paper or through any other simple arrangement for data transfer.
Once created, the convenience of using a bearer token is that neither the creator nor the recipient has to protect, retrieve, or employ electronic keys while conveying the value of the bearer token. In fact, in some cases, a bearer token may be conveyed without any need for connectivity to the internet.
Bearer tokens may be redeemed in any number of convenient ways, for example, through plugins or on mobile devices through apps.
Bearer tokens, like cash, are not securely tied to an identity. Therefore, they are most likely to be created in small increments and/or small denominations. Geeq's bearer token technology will facilitate blockchain use cases such as micropayments, machine-to-machine payments, streaming payments for content and other services, and automated payments.
Introducing Geeq's Certified Token Technology
Certified tokens are a category of tokens that permit transfers of an asset of pre-determined value (e.g. units of coins) or type (the title to a specific car). Geeq's technology for a certified token is similar to its technology for a bearer token in the ways that it simplifies the transfer and conveyance of value.
The important difference is that, at creation, a certified token designates the conveyance of the asset to an account associated with a specific public key. In this respect, Geeq's certified token technology creates a cryptographic equivalent to a certified check or money order. While any person or machine who receives a certified token may redeem it, the value of the certified token will always go to the designated account.
Certified tokens may be securely transferred peer-to-peer or through several intermediaries. For example, the creator may be a donor who is able to transfer a certified token to any intermediary, who then redeems it for the intended charity.
Conclusion:
Geeq's patent-pending technology for bearer tokens and certified tokens simplify interactions that rely on accounts on blockchains. These technologies de-couple the requirements of timing and availability to the underlying blockchains with the means and methods of conveying cryptographic assets or tokenized assets.
By increasing convenience, reducing technological burden, and widening the use cases for blockchain to include micropayments, Geeq reaffirms its commitment to continually elevate quality of life through services powered by blockchain.
Geeq™ Partners with Morpheus Labs
Following our recent partnership announcement with Qudem, we're delighted to announce that Geeq™ has secured a fantastic opportunity to join forces with the industry established, and well-respected blockchain project, Morpheus Labs, The Blockchain-Platform-as-a-Service (BPaas) for prototyping, deploying and operating Dapps at minimal cost and time.
This is a mutually beneficial partnership that reinforces both of our positions within the industry as well as allowing both parties to collaborate on some interesting projects together in the future. Morpheus Labs & we at Geeq™ share the same vision of opening up the realm of blockchain for mass adoption.
It's an impelling prospect for Geeq™ to be partnered with a platform that hosts an extremely talented developer pool such as the community at Morpheus Labs. That is why, to fully support this exciting partnership, we'll be planning co-ordinated developer meetups and hackathons with the Morpheus team. This will highlight our belief that Morpheus Labs should be the platform of choice by developers looking to build a Geeq blockchain.
---
Here's what the Chief Development Officer of Geeq™ — Stephanie So had to say about the partnership:
"Morpheus Labs, led by CEO Pei-Han Chuang, have an impressive and comprehensive vision to accelerate blockchain adoption around the world. We are tremendously pleased to join forces with them. Like Morpheus Labs, we at Geeq believe in meeting and responding to developers' and clients' needs wherever they are in the adoption cycle. Geeq's niche is to ensure DApps function correctly under the most adverse security conditions. We are excited to work with Morpheus Labs to bring decentralized solutions to sectors where the combination of high security with low costs will realize the most immediate benefits, such as in finance and IoT."
And what Pei-Han Chuang CEO of Morpheus Labs had to say:
"Behind the Proof of Honesty project (PoH) is a team of very experienced and highly skilled experts who possess different strengths to improve the existing Blockchain method. We are very excited because out of many blockchain companies who are seeking for a collaboration with us, Geeq is one of those who has displayed a lot of confidence in their project and commitment to work with us on user adoption. We look forward to achieving greater things together."
---
About Geeq™
Geeq™ is a public blockchain infrastructure-as-a-service that is secured by our Proof of Honesty protocol (PoH), ensuring your most valuable data is the safest it can be while being easily accessible to all.
About Morpheus Labs
Morpheus Labs is a Singapore-based blockchain firm, is helping to bridge the current adoption gap by providing enterprises with a full-service Blockchain-Platform as-a-Service (BPaaS) solution for easy prototyping, deployment, and integration. It provides an easy access and mission critical tools that enables developers to develop, test and manage blockchain applications using different Blockchain Protocols to achieve cost efficiency and a fail-safe environment. The platform is the only end-to-end blockchain platform and app marketplace with a variety of active blockchain partners whose vision and goal are to find solutions to problems hindering mass adoption.
Photo by Jake Weirick on Unsplash
Keep connected to both of our projects via the social links below.
Morpheus Labs
Website ~ www.morpheuslabs.io
Telegram ~ https://t.me/morpheuslabs
Twitter ~ https://twitter.com/morpheuslabs_io
Medium ~ https://medium.com/morpheuslabs_io
Innovators in Securing Big Data Team Up to Provide Guarantees of Data Consistency Across Distributed Servers
Waterloo, ON, Canada, August 12, 2021
Decentralized blockchain pioneer Geeq Corporation has embarked on a strategic partnership with 0chain, which offers high-performance, highly competitive, sharding and storage solutions. Together they will work on providing low-cost, high-throughput data validation, storage, and retrieval methods at scale.
Both projects are well-positioned to provide infrastructure for the future economy's use of data, at scale. The 0Chain and Geeq teams crossed paths when they found themselves working on the same efficiency and security issues, at compatible entry points.
The teams began talking more seriously when they realized they also shared a vision of efficient, decentralized marketplaces: at both the validation and the storage level. That's when the topics of IoT and content data came up.
IDC forecasters expect IoT devices to generate as much as 79 zettabytes of data by 2025 – more than four times as much as in 2019 – driven by surges in wearable medical devices, autonomous vehicles and other sectors. All this data must be securely processed, validated and stored. Geeq's scalable blockchain platform is the perfect partner for our decentralized storage. With high-speed validation performed by Geeq and storage on our enterprise-grade network 0stor, there is no limit to what IoT developers can achieve.

Saswata Basu, 0chain Founder
Security and scalability are two core challenges for IoT networks, which must handle sensitive data from multiple devices and companies at great volume, but Geeq Corporation's groundbreaking consensus protocol, Proof of Honesty (PoH), solves both. Conventional blockchain solutions improve security when they are decentralized because there is no single point of attack, and the distributed ledger is tamper-resistant, but they are still vulnerable and expensive. In contrast, PoH radically cuts costs, improves speed and strengthens security, because individual actors compete for market rewards on the basis of accuracy.
Aligned with Geeq's consensus protocol, 0Chain's erasure coded network provides an additional and near impenetrable security layer, fragmenting each and every file into 10+ fragments and distributing each fragment to a unique geolocation server.
Coupled with sub <1 second finality, 0Chain's fast parallel fragment upload and retrieval is indeed an enterprise-grade solution and perfectly matched for the demanding storage needs of the IoT market.
Maintaining Data and Regulatory Compliance is a must for IoT and Enterprise. With 0Chain's 0Stor it provides GDPR / CCPA compliance with a simple Joint Controller and Schrems II solution and truly solves the privacy issue and achieves zero-liability.
The strategic partnership also offers benefits in further use cases such as micropayment-powered media streaming, opening new revenue channels for creators thanks to Geeq's ultra-low-cost bearer tokens and 0chain's high-performance storage.
The combination of Geeq's micropayment-powered media streaming and 0Chain's Media Storage layer, would allow Pay-per-View events for Artists and Creators to monetize their work through a direct business to consumer transaction, enabling them to have complete control and generate more revenue.
Because our Proof of Honesty consensus does away with scale and cost limitations, there is great potential for transforming industries from logistics to media. We are excited to work with 0chain to unlock creative thinking across the board.

Ric Asselstine, Geeq CEO
0Chain Head of Partnerships Adrian Corcoran commented: "As IoT data generates at an alarming rate, 0Chain's decentralised data cloud storage layer uniquely provides IoT with an Edge Data Cloud solution, coupling processing power with the strength of a near impenetrable cloud storage solution for the ages."
Developers of IoT applications are encouraged to learn more about 0chain's data solution.
About the Geeq Project
Geeq is a multi-blockchain platform secured by an entirely new consensus mechanism called Proof of Honesty (PoH), which radically reduces the cost of securely transacting value at scale. It is safe enough for highly valuable data, fast and cheap enough for IoT, and flexible enough for any use.
Geeq was founded by a team of expert economists and technologists. The founders see unprecedented opportunity in decentralized technology that to date has not been realized, as existing blockchains are caught in a trade-off between scalability and security. Geeq resolves the dilemma with an accessible, dependable, low-cost solution that does not sacrifice either trust or capacity, unlocking blockchain's real potential for the real world.
About 0Chain
0Chain is a high-performance decentralized storage network designed to eliminate business threats such as censorship, privacy liability and data breaches. 0Chain helps entities achieve GDPR compliance, localization and tokenization, and monetizes private data sharing.

Forward Looking Statements

Statements in this Press Release, including statements relating to Geeq's and 0Chain's future plans and objectives or expected results, may include forward-looking statements. Forward-looking statements are based on numerous assumptions and are subject to all of the risks and uncertainties inherent in technology development and commercialization. As a result, actual results may vary materially from those described in the forward-looking statements.
Company: Geeq
Contact: Bridie Mitchell
Email: bridie.mitchell@geeq.io
Website: geeq.io
Address: 554 Parkside Drive
Waterloo, Ontario, Canada, N2L 5Z4

0Chain Contact Information
Adrian Corcoran
adrian@0chain.net
0chain.net
10425 Dempster Way
Cupertino, CA 95014
TechTarget Recognizes Geeq™ as a Blockchain Problem Solver
TechTarget recently recognized Geeq as a problem solver in blockchain, and we are bursting with pride. In the article called, "Problems with blockchain and how they're being solved," author David Petersson points out some of the issues with blockchain and then discusses how "cutting-edge companies" like Geeq are tackling these complex challenges.
"IoT deployments have their own problems with blockchain," Petersson writes. "IoT sensors and devices have low battery and storage. Thus, blockchain IoT developers must deal with feasibility issues, particularly if they want to store a high volume of otherwise low-value records (such as IoT telemetry) on the blockchain."
He goes on to explain how Geeq's Proof of Honesty validation system ensures the data contained on the canonical ledger of a Geeq blockchain is not corruptible – and also how our protocol guarantees that a chain will exist that is immutable.
Thanks to TechTarget for the awesome shout-out. We are incredibly honored to be featured as a blockchain innovator.
Want to learn more about Geeq's IoT work? Check out our IoT blog post.
Photo Credit: Michael Bourgault on Unsplash
Terepac IoT + Geeq™ Blockchain
Terapac + Geeq: Two technologies, one brilliant theory.
Together, we offer incredible foresight and vision. We are experts at what we do, so we can provide the tools you need to get exactly what you want.
We serve up real solutions—solutions that work and ensure you love the experience. Our platform is rock-solid, allowing our solutions to be flexible. We are not focused on capturing our market. We are focused on providing value so you want to stick with us and be free.
Our CEO, Ric Asselstine, knows how to build successful companies, and our teams know how to build state-of-the-art products. But we all know the sum of our whole is greater than our parts. It's all about working together.
Trust yourself. Be free. Be creative. Be a Geeq.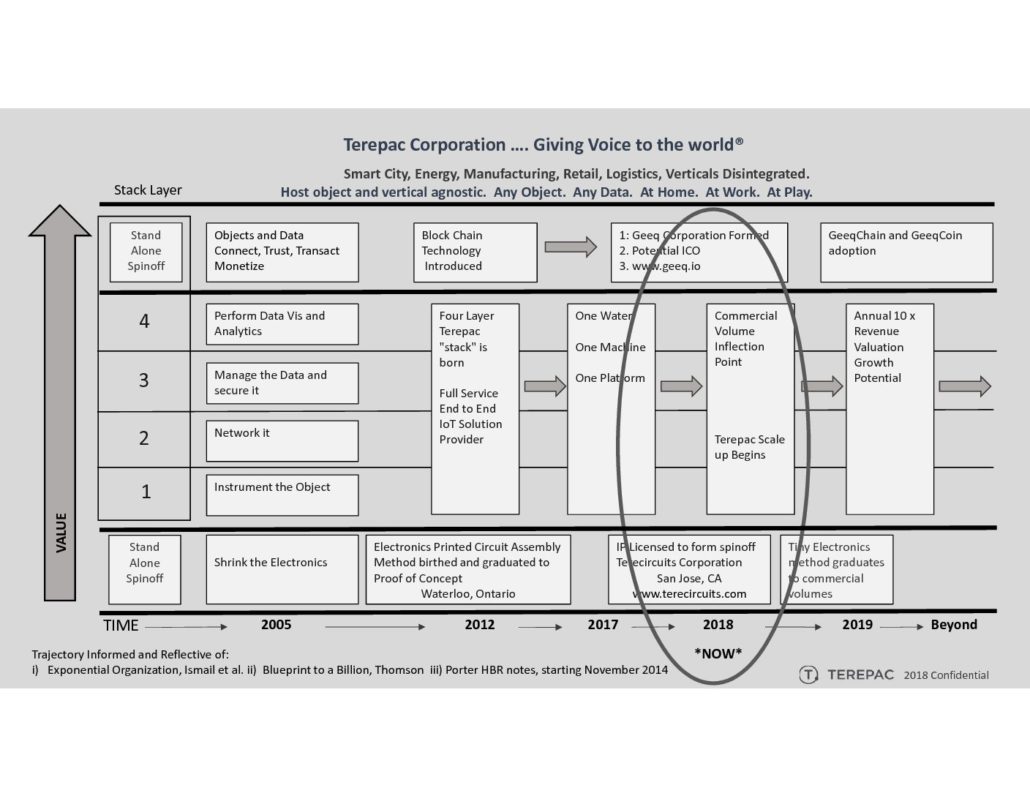 When is Blockchain Useful?
Geeq's technology addresses an old problem: lack of trust due to asymmetric information. How can parties feel comfortable negotiating or transacting if one feels the other has an advantage in manipulating information?
Thus, Geeq is a new information and communications technology.
The primary economic value of services powered by Geeq is that they provide access to dependable, neutral, and correctly validated data sets.
In so doing, these data can be acceptable to all parties who wish to coordinate on some, but not all, dimensions with each other and do not wish to trust a third party.
How do we identify potential pain points?
There are five key criteria that make it likely that Geeq has a better approach to addressing a problem than conventional data systems or centralized cloud-based software as-a-service (SaaS) solutions:
The problem requires secure transfer of value, possibly in very small increments; for example, micropayments for content or web services and machine to machine markets, and person to person payments such as small charitable contributions or sharing the cost of a meal among a group of friends.

The problem involves agents who do not know or do not trust each other; for example, peer to peer markets for goods and services, escrows, and providing proof that all parties are what they say and behaved honestly.

The problem involves many different actors from different organizations whose interests do not align; for example, logistics or chain of custody applications that transfer responsibilities from party to party.

The problem requires objective provability of facts or data; for example, audit trails and telemetry collected from connected industrial, medical, and infrastructure devices.

The problem involves agents who might wish to censor, alter, or hide data; for example, securities, land title, and financial transactions where theft and fraud are real possibilities.
For blockchain to offer a viable solution to these problems it must be secure, inexpensive and scalable. For Blockchain as a Service (BaaS) to become a realistic alternative to private databases, it needs to be flexible, upgradable, environmentally sustainable, and protect users from unreasonable volatility in token value.
What Makes Geeq's Technology So Special?
Traditionally, blockchain protocols make security assumptions that are, at best, unverifiable, such as assuming less than 1/3 of the network will be malicious. These security assumptions introduce tremendous uncertainty about the future. At worst, the many assumptions required for the security of a blockchain platform are unrealistic. In order to mitigate those risks and improve function, most subsequent work has inadvertently introduced new attack surfaces by adding complexity, rather than addressing the root problems inherent in the way they define consensus.
Geeq's mission is simple: we put the well-being of end users first. Achieving such an idealistic goal required preparing for the worst case. Here is the breakthrough: Geeq's technology works even when we have no idea who is in a network and what they may or may not choose to do. We know we can't control others' choices in a decentralized world – nor would we want to. The bottom line is this: the only thing that matters about blockchain is whether it is able to provide us a better way to organize economic activity compared to using a centralized database.
By re-examining the data that honest users will need to make decisions, rather than what network participants may want them to believe, we found a way to solve the information game by re-engineering the idea of consensus.
Simply put, Geeq's protocol requires each node to work independently. Honest nodes are able to deliver Proof of Honesty only if they've arrived at the singularly honest conclusion. As a result, all honest nodes arrive at the same, provably honest blockchain on their own, and the information coordination problem is solved when users interact only with honest nodes.
Consensus, at Geeq, is the product of honesty.
Blockchains based on Proof of Work, Proof of Stake, or Proof of Authority work on the assumption that power – in terms of hash rate, financial muscle, or institutional standing – produces truth. At Geeq, we believe that only those who are truthful should be powerful.
Why is There No Mining at Geeq?
Bitcoin and Ethereum (among others) famously use mining in their Proof of Work (PoW) protocols, why doesn't Geeq?
The short answer is: mining creates problematic incentives from the point of view of the user of a blockchain-based application.
Who Benefits from Mining? Miners.
Mining can be profitable for miners, who are in charge of the construction and maintenance of Proof of Work-based blockchains. That is why they do it.
An interesting feature of the mining market is that profits can be uncertain. The rewards change and sources of income are also fairly dynamic. In fact, the "block rewards" portion of their earnings are explicitly based on a mechanism that is a bit like playing a lottery. In a competitive market for mining, miners are incentivized to adopt strategies that give them an advantage.
We have already seen miners' strategies adapt over time to maximize their profits. One response to the bitcoin blockchain, in particular, has been to set up mining "farms" comprised of many high powered computers. As the owner of many computers, a mining farm increases the odds it will make profits. This should not be surprising: it is like someone who buys many tickets to a lottery in order to increase their chances of winning.
For the user of PoW-based blockchains, these two features of the mining market introduce risks to the users that are out of their own control: a) miners have incentives that diverge from the users' and b) mining sets up an uneven playing field. A more concentrated market for mining also concentrates power over the construction and maintenance of the Proof of Work-based blockchain. This means a PoW-based blockchain database is vulnerable to attack.
The most well-known vulnerability is the 51% attack, which has happened several times. There are other threats that are more complicated and also relatively unknown, so we will not include them here. Suffice to say that every potential threat introduces risk of disruptions in service and controversy, especially when attacks within protocol yield unexpected results. Some of the outcomes may result in transactions that are rolled back or censored, which is exactly what blockchain-based DApps are supposed to disallow.
Geeq is focused on providing value to the end user of any Geeq-enabled service.
As you use the Geeq platform, you have the security of knowing Geeq's blockchain-based payment system is at the leading edge of blockchain technology. All Distributed Applications (DApps) built on the Geeq platform are based on underlying blockchain databases that have the integrity and dependability blockchains are supposed to have. As a result, DApp providers and consumers are able to focus on the quality of services DApps provide, with an emphasis on making them useful and easy to use.
Conclusion
Geeq's Proof of HonestyTM (PoH) is a next generation, proprietary blockchain technology that enables a new hybrid platform. The platform itself is truly decentralized.
Geeq was built with the end goals of a blockchain-based, decentralized economy in mind. In order to arrive at that destination, we had to re-think all the layers of the blockchain "stack", from the market for nodes and validators up through the final markets for new DApp-based goods and services.
Simply put, Geeq doesn't have miners because their incentives are not aligned with our vision of a decentralized economy. In Geeq's ecosystem, all incentives are aligned with those of the honest user, including the nodes and validators who construct and maintain the blockchains. At Geeq, market power doesn't matter. Honesty does.