By: Geeq on Dec 24, 2021
Last week, Geeq's very own German Ramirez, our Global VP of Marketing, gave a presentation on enterprise adoption at the digital conference entitled "Blockchain in Business 2021 – Structuring the new business environment".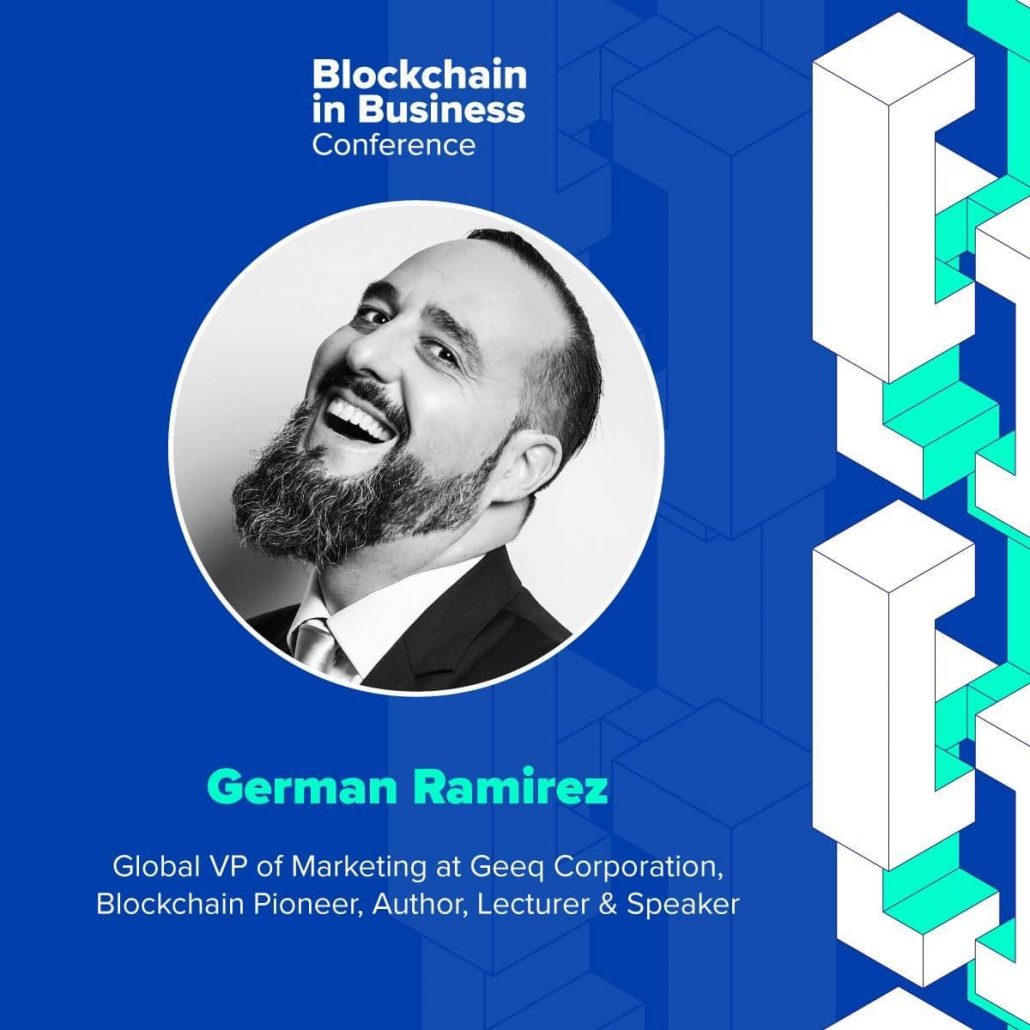 German was asked to help businesses better understand and unlock the full potential of Geeq's technology.
For example, the increased complexity of supply chains in a globalized world pose operational challenges to each participant. Cases abound that require coordination that Geeq's blockchain-driven, information-oriented solutions have been designed to simplify. Achieving the desired level of trust and immediacy has been costly, perhaps prohibitively so, until now.
By incorporating the benefits of automation such as feedback from easily retrieved data generated by IoT, both the data and how it is used must provide information that is helpful and unobtrusive.
The new generation of blockchain must reduce friction in the process rather than add to it.
To address this example, German outlined the requirements for these new blockchain solutions. First, the next generation of blockchains must be able to secure supply chain data as well as be prepared to facilitate machine-to-machine payments.
Blockchain solutions should, at minimum, surpass the bar of being cost-effective and, even better, be less expensive compared to current solutions for enterprise problems.
The new generation of blockchains must be reliable, secure, and interoperable. Most of all, they should be ready to scale.
It is common knowledge the previous generation of blockchains were not built to scale. While they iterate on scaling solutions, there remains uncertainty on many fronts: the scaling methods themselves, their security, their resource requirements, and many other issues.
These debates about older generation blockchains have been long running. As they have taken place, early adopters in enterprise have experimented with private blockchains. Do these harness the power of decentralized networks? Not fully, so the scope of problems that have been addressed has been limited.
Moving Enterprises Toward Yes
One of the distinguishing characteristics of being a Geeq is having a grounded, practical approach to adoption. Or, as German likes to say: working to bring the power of blockchain to Planet Earth, rather than leaving it to the niche enthusiasts on Planet Crypto.
The disconnect occurs when Planet Crypto touts a world of future gains while skipping lightly over the disruption of implementation. The results of these sales pitches speak for themselves. Across all industries, the majority of enterprises are somewhere in the exploration and evaluation phase, and getting caught up in difficult questions – which blockchain should they use, for what pilot, and how will those translate to their businesses, when, and where?
As in all technical decisions, enterprises are interested in solutions that deliver cost savings almost immediately, rather than some unspecified time in the future. Will the new generation of blockchains meet that need?
Geeq is prepared to address these concerns with its honest answers and easy to use blockchain-based solutions. The range of solutions Geeq offers are appropriate for enterprises that need blockchain to improve their internal activities, as well as enterprises gearing up to expand their customer base by offering public applications.
Geeq is also able to customize "mixed" blockchain-based applications for situations where tools are needed to satisfy stakeholders with different priorities over the same data.
Geeq is a leader in new generation blockchains
Geeq addresses a problem organizations face right now — particularly those that have grown through mergers and acquisitions and/or must re-evaluate their overall cyber-security readiness. We are developing services that were impossible to achieve before.
Geeq Data simplifies the process of enterprise data integration (EDI). Data in large organizations tends to be silo-ed in different data systems across various departments, subsidiaries and divisions, making it difficult to obtain an overview. German detailed how Geeq is able to create a data consistency layer that provides visibility across an entire organisation. Importantly, this approach enables organizations to retain the processes that work for them and is able to build on employees' comfort with their existing data systems.
On a slightly more cautionary note, the talk touched on how edge security will become paramount in a global economy that includes trillions of connected devices. Here too, Geeq's solutions provide the additional security of blockchain. Drawing from first hand experiences with technology products over decades, the Geeq team anticipated exponential growth and architected an infrastructure to support scalability from the start.
Beyond globalization, the climate crisis is another key vector of change. To meet increasingly stringent environmental targets, we know the end game will require changes in the way we travel, particularly in cities. A significant percentage of the CO2 emissions of vehicles stems from their production, and an average car spends the majority of its lifetime parked.
To address these and other urgent, thoroughly modern priorities, the Geeq team is ready to work with those who prioritize the adoption of technologies that are beneficial for enterprise and society. Examples that motivate German are how blockchain-based micropayments can be used to underpin a smart mobility approach to urban transport and remittances.
Geeq Pay micropayments also create new pay-as-you-go revenue streams. Business models in the news, music and gaming industries were mentioned. But these are all extensions that highlight the capability of the new generation of blockchains – at Geeq.

The full presentation from the conference is here.
Conclusion
German was glad to have the opportunity to showcase the potential applications of Geeq for enterprise clients to a wide-ranging, business focused audience.
Geeq's technology is built to satisfy the challenges enterprises face now, and in a future-proof, scalable way. Geeq's team is made up of experts who, like German, have long experience in evaluating technologies from both sides of adoption: building products from the ground up and delivering new ways to provide value to customers.

To stay up to date with the latest updates and events concerning Geeq, don't forget to sign up for our newsletter. We welcome all enterprise decision makers to contact us about partnering with us. Let's talk about your use case!