By: Geeq on Feb 7, 2023
Partner environments upgraded to Geeq protocol v4.6.
Updated the block explorer and Geeq Data apps to ensure they continue to work with v4.6.
Conducted load and performance tests for v4.6 on different AWS machines.
Geeq protocol 4.6 takes the first step toward enterprise NFTs
The Geeq dev team reached its milestones to deliver protocol v4.6 to the private data environments set up for our partners.
V4.6 represents the first version of the Geeq blockchain to include code specifically geared toward NFTs. Asset accounts have been updated to Geeq's schema for NFT ownership and transfer.
Geeq NFTs will consist of fixed records with unique identification record numbers (IRNs) in the application ledger. With this update, a basic Geeq asset account can include any number of pointers to application records of NFTs (on the same chain, of course). In other words, this technology will scale well for a private instance deployed for enterprise NFTs, where a single account may be responsible for tens of thousands of enterprise NFTs. We look forward to taking the next step towards enterprise NFTs in the coming year.
UX/Design for Geeq NFT demo
As part of our ongoing business development efforts, we are in discussions with potential strategic partners. To aid these discussions, we have created an interactive demonstration which lays out a prospective user journey for Geeq's NFT solution. This allows potential partners to understand how Geeq NFT functionality could be leveraged when it reaches fruition.
The walkthrough details the journey of a coffee crop from source to retail. At each step, website visitors can follow the supply chain and see how Geeq NFTs would add traceability and validation.

This design encapsulates the clean, intuitive approach at the heart of Geeq while illustrating how on-chain data could be presented.
"MINT" transaction type
One of the highlights of the NFT demo is that it now illustrates the "MINT" transaction type.
As you can see below, Geeq's approach to standardizing transactions will lead to technical readouts that are clearly organized and easy to read. This will make it simple for our strategic partners and clients to view the details pertaining to a newly created NFT and track its ownership following a sale.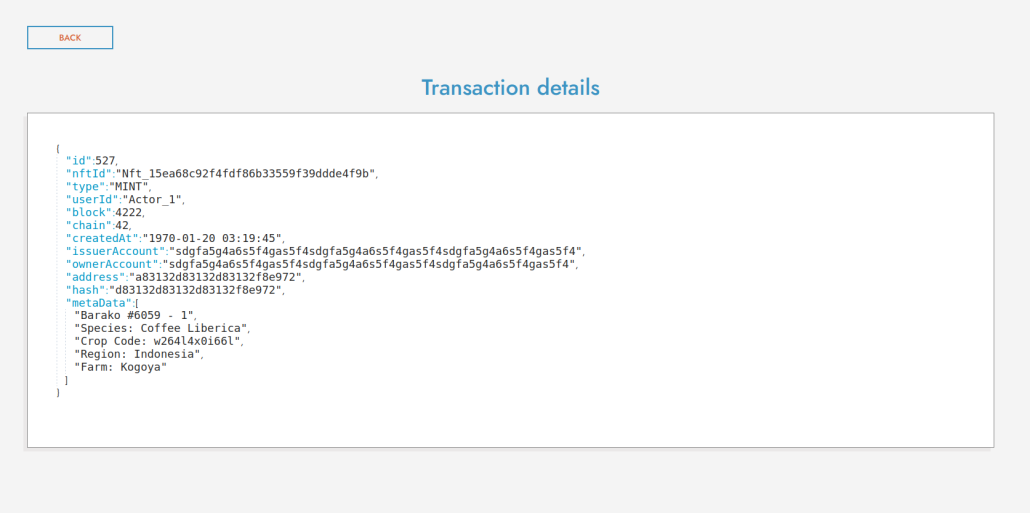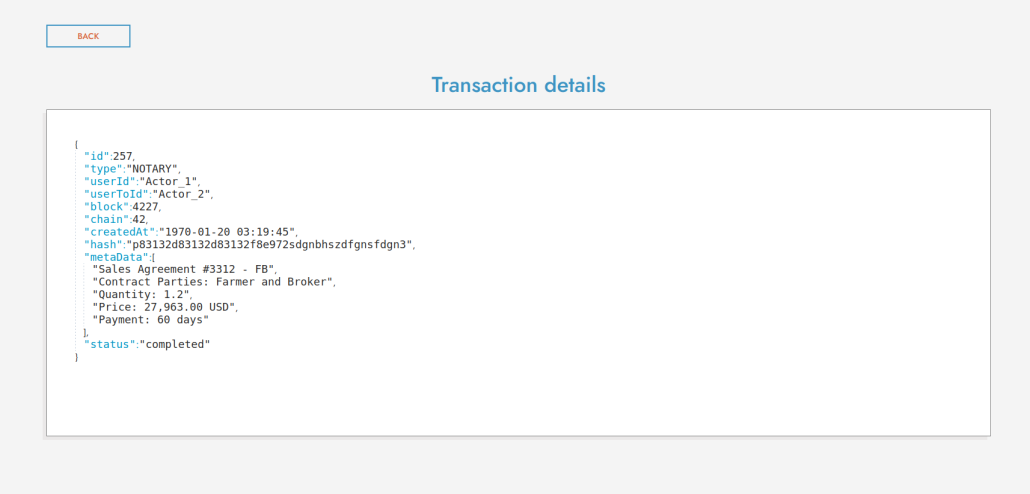 Eagle-eyed readers will notice Geeq's NFT records, like the notary records, have standardized placement for human-readable metadata. These features prepare the way for search to be incorporated into a Geeq block explorer.

We hope you enjoyed reading and, as always, thank you for your support!
– The Geeq Team