By: Geeq on Jul 6, 2020
You may remember Geeq Founder & CEO Ric Asselstine along with our partners Morpheus Labs were invited to speak at "Laws of Investments During the Covid-19 Pandemic", part of the LATOKEN Online Roadshows organized by Sonny Mohanty.
We featured Ric's answer on tokens and equity in last month.
Due to the success in raising awareness of Geeq that came after the last LATOKEN roadshow appearance, our Founders, CEO Ric Asselstine & Chief Economist John P Conley will be attending another LATOKEN Roadshow to discuss:
Proof of HonestyTM – Geeq Corporation's Dramatic Difference and Why it Matters to Blockchain Mass Adoption.
This event will take place on Thursday, July 9th at 12:00 PM UTC.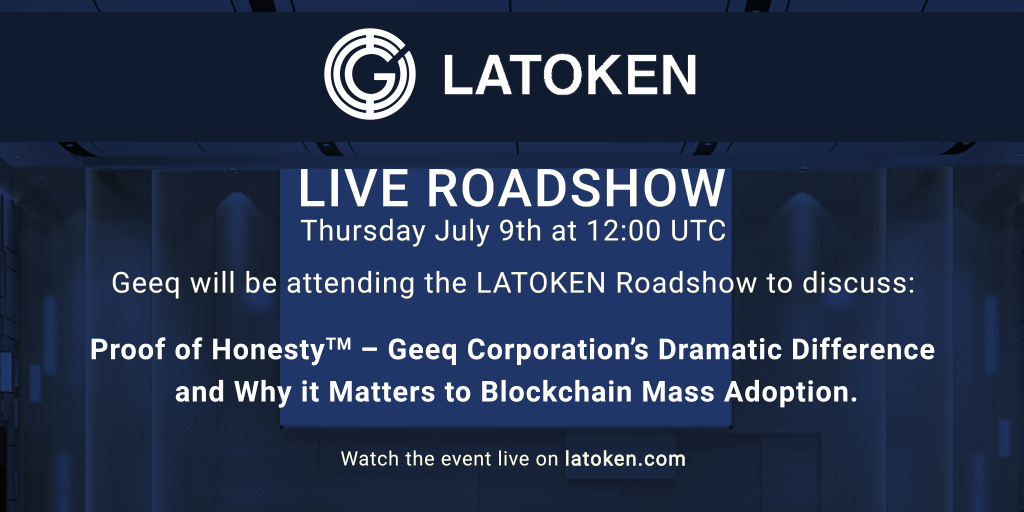 In other time zones, that's this Thursday, July 9th at 8 AM ET in Waterloo, Ontario and 8 PM in Singapore.
You will be able to watch the event live on the LATOKEN website here: https://go.latoken.com/GBEF09JULY and on Youtube. We'll also post the link while live in our Telegram chat.
We think this is another excellent opportunity for our community members to meet the team behind Geeq and get a better understanding of the project as a whole.
We look forward to seeing you there!