By: Geeq on Nov 2, 2019
Geeq's Stabilized-Token made its debut in a public talk during San Francisco Blockchain Week, October 2019. Geeq Chief Economist explained the properties of a stabilized-token and how it becomes possible when backed by an Algorithmic Monetary Policy that is a pre-commitment at its launch.
It's Hard to Escape The Downsides of Stable Coins
Geeq Founder John P. Conley, has discussed the downsides of moving to the extremes of either a pegged token or a free-floating token before. He has written extensively about it in the introduction to Geeq's Technical Paper for Monetary Policy HERE.
He's also brought the message to the masses, most recently in a generalized blog post he published on Medium piece HERE. A follow up piece on Libra Coin's tie to "a basket of assets" brought out more similar, albeit more subtle criticisms HERE.
Speaking Truth to Power
Fortunately, John knows how to deliver a factual message without getting caught in the cross fire.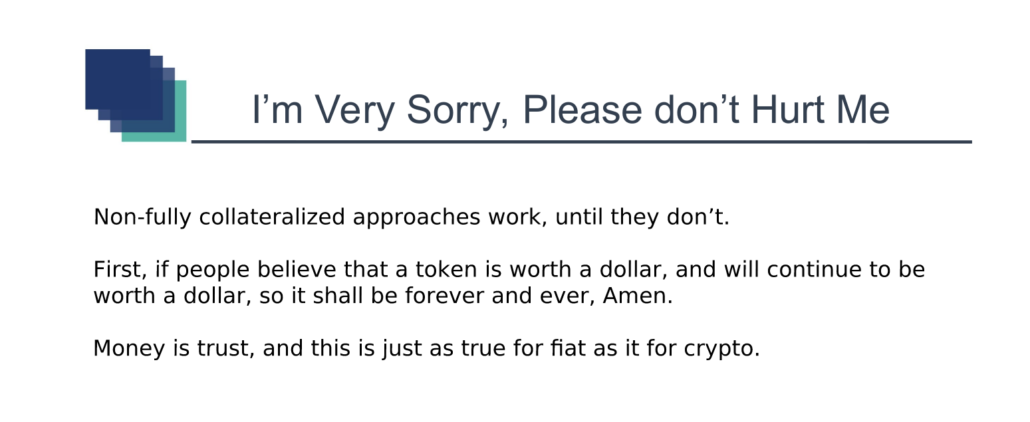 Middle Path – Geeq's Stabilized Token
What a difference a year makes. The audience at this year's sold out Macro.WTF 2019 seemed ready to reassess the stablecoin experience and consider alternative models of token engineering going forward.
It seemed time to unveil Geeq's token economic strategy in a talk called "Algorithmic Monetary Policy for a Stabilized Token".
Please enjoy the slides HERE. UPDATE! Macro.WTF has posted videos of all the talks. The video for John's talk is available HERE.
Introducing the Geeq Algorithmic Monetary Policy
The opportunity to design a digital token economy from scratch is the opportunity to think proactively about tokenomics and monetary policy, using decades, if not centuries, of macroeconomics experience. It is this knowledge that is being brought to bear before Geeq issues its stabilized token.
The most important distinction is that blockchain technology brings in the ability to make credible commitments to a transparent algorithmic monetary policy, to support a token whose value moves between the extremes of a fixed peg and a free float.
Geeq calls its policy an Algorithmic Monetary Policy (AMP). The AMP is designed to reduce the uncertainty and volatility surrounding its native stabilized-token, thus allowing both the blockchain economy and the market for its native token to enjoy market conditions more conducive to growth. A well-designed AMP works to dampen the tendencies for thin markets to fall into a vicious volatility cycle, by taking advantage of a significant opportunity to decentralize monetary policy.
Photo by Austin Park on Unsplash