After the success of our last 3 AMAs, we realised a short space of time has passed and lots has happened too!
We all felt that after eating, drinking, sleeping, geeqing, protocol creating, oh, and coding for the last few weeks was not enough, therefore with more internal milestones met it must be time to give our amazing community a chance to ask some more great questions. In order to do this Geeq has teamed up with no other than Crypto personality and educator @Eljaboom!!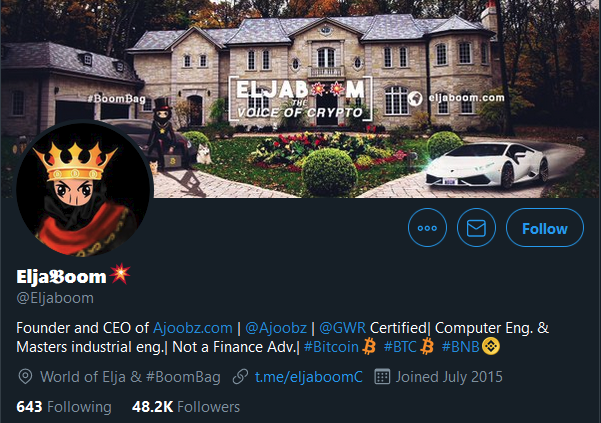 Eljaboom is the Founder and CEO of http://Ajoobz.com whose purpose is to provide its expertise to followers and assist both crypto enthusiasts and projects to ensure their success, through education and knowledge.
Eljaboom has over 48K Followers on Twitter and his telegram room https://t.me/eljaboomC Eljaboom Crypto World has over 25,000 members.
He is acknowledged as one of a growing number of crypto educators, and has recently been recognized as one of the top Crypto influencers, as well as being in the Binance global influencer nominations for 2020!
Eljaboom has made it through to the last 5 people in the final voting round, so go ahead and give him your support here: http://bit.ly/GlobalBinance.
To celebrate this AMA which will take place in his Telegram group https://t.me/eljaboomC on July 10th at 1PM GMT our Founder and Chief Development Officer Stephanie So will be joined by Geeq's Head of Crypto Hans Sundby to answer all your questions about Geeq. They will be answering 15 questions from Twitter in https://t.me/eljaboomC and will be rewarding the top 10 questions, with $10 of $GEEQ each!
SAVE THE DATE: Friday, July 10 – 1 PM UTC; 8 AM CDT in Nashville, and 3 PM CEST in Norway.
If you would like to take part and submit a Geeqy question and have a chance to get some $GEEQ while educating yourself, then please follow the instructions in the Tweet below. 👇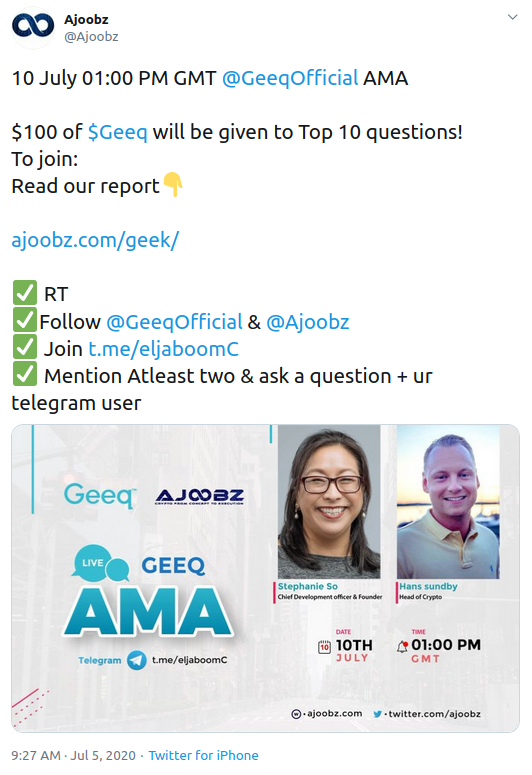 Eljaboom and his team have also been researching into Geeq.io as part of their due diligence with regards to the AMA and have written up an article from their findings : Geeq™ the most secure blockchain so please make sure to check that out too!

– Ajoobz.com
To learn more about Geeq™ follow us:
Website ~ Grab a Coffee ~ https://geeq.io/category/news/
Telegram ~ Join us for a chat ~ https://t.me/GeeqOfficial
Twitter ~ Keep up to date ~ https://twitter.com/GeeqOfficial
YouTube ~ Feast your eyes ~ https://www.youtube.com/c/GeeqOfficial
By: Geeq